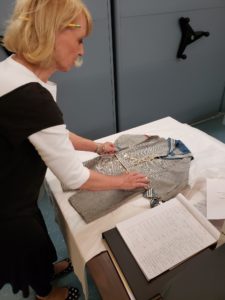 Carol Jones, LHS board member and museum volunteer, began volunteering weekly in the curatorial department of LHS in September of 2014. She assists Alex Dubois, Curator of Collections, in the curatorial department with a variety of tasks. Several years ago she started working on a project of personal choice: an inventory of the museum's children's clothing collection. Her background is in textiles and clothing with a focus on children's historic clothing. Her masters thesis is a framework for dating long white baby dresses.
The children's clothing project involved inventorying, cataloging, updating digital records, assigning accession numbers and numbering previously unassigned objects, creating box lists and photographing each object. There are a total of 577 children's garments and accessories in the museum's collection.
Currently Carol is working on the photography aspect of the project. Each Wednesday she is photographing the children's collection. Each week she will choose a favorite example of historic children's clothing.
Follow us on Facebook and Instagram to keep up with Wednesdays with Carol.
Or follow these links: