Annual Fund Giving at the Litchfield Historical Society
As you know, 2020 is presenting a much-changed environment for us all, yet the Historical Society remains actively engaged with our community in new and exciting ways. While we made the difficult decision to keep both the History Museum and the Tapping Reeve House closed in an effort to keep our staff and visitors safe we have found new ways to connect with our community. We developed new educational resource for homeschoolers and remote learners, offered access to museum and archival collections for all audiences through social media, and offered opportunities for the community to gather safely in a beautiful outdoor setting to learn, enjoy, and reflect.
Sadly, we made the decision to cancel both our spring and fall fundraising events, so your Annual Fund support means more than ever!
I hope our programs, activities and commitment to the Litchfield community will inspire you to give:
During the winter and spring we offered a variety of virtual activities for all ages. Kate Zullo, our educator, offered a cursive writing course; the staff presented a month-long series of events surrounding Benjamin Tallmadge and his spy network; and we offered weekly curatorial talks, interactive programs, and occasional evening "Letters and Libations."
---
I wanted to express our gratitude to you and the Litchfield Historical Society for offering Cursive with Kate through Zoom during this quarantine time. The class was definitely a bright spot for Ella, and she looked forward to it every week, which meant a lot as there hasn't been much to look forward to as far as seeing friends or participating in activities. She especially loved having you as a teacher and we definitely plan on heading to the Litchfield Historical Society this summer and hopefully participating in some classes in the fall. Thank you again for this wonderful class. – Julia Rodrigues
---
Alex Dubois, our curator of collections, has developed a series of online exhibits for our website and is working on a virtual tour of the Tapping Reeve exhibit which will launch in September. He and Linda Hocking, our curator of library and archives, have been writing and posting regular blog posts to the website and the entire staff has developed and posted content related to our object and archival collections to all social media platforms. Much of this work is available on our YouTube channel.
In the late spring we turned our attention outside to the Tapping Reeve Meadow. We offered community weeks, art activities, and summer STEAM (Science, Technology, Engineering, and Math) in the garden. Olivia Delaney, our garden educator, was with us three days a week to offer programs and discuss the garden with visitors.We began offering regular walking tours to sold-out audiences in July and many of you enjoyed biweekly Bocce and Beer on the lawn. The 100th anniversary of women's suffrage is the focus of a new outdoor exhibit and series of activities in the garden pavilion.
---
The program has been incredible, and we have enjoyed learning together in a beautiful setting. Olivia and her team are incredible at planning thoughtful activities and readings and creating hands on learning opportunities. We found the class by accident, and it has been a highlight of our week. As a parent, it's been great to see my daughter learning and participating in activities that are somewhat normal during strange times. Thank you for offering this program – Maura
---
We continued out partnerships with community organizations such as the Litchfield Community Center, White Memorial Conservation Center, League of Women Voters of Litchfield County, Litchfield Park and Recreation, Litchfield Education Foundation, Litchfield Garden Club, KidsPlay Children's Museum, and Art Room Atelier.
The Tapping Reeve Meadow is more than a place for organized activities. The meadow has truly become a community space helping people preserve their quality of life. It is a place where friends meet for lunch, musicians jam, families pick vegetables, kids read books . . . It has become a place of respite for many during these difficult times. It is a place enjoyed by friends, new and old.
---
We've escaped to the Meadow virtually every day this summer with our toddler–rolling around in the grass, picking tomatoes, listening to stories, and getting tips on gardening! What a wonderful sanctuary, even more so this year! – Jonathan, Jacqueline, and Dylan Shahrabani
---
For fifty years we have known the Litchfield Historical Society land behind our home
on Meadow Street. This summer we are knowing it as the meadow where we garden and walk often. The mowed paths lead us by the willow trees, the entwined crab apple trunk, the Joe Pye – up to the garden and sitting area. We check out the apple orchard and admire the bronze apple. The Western Lands Trio has discovered that it is the perfect place to practice. In these too quiet times it's a pleasure to see others – alone or with their families or friends or dogs walking and enjoying "our" meadow. What's missing? Maybe a putting green? – Bette and Jerry Geci
---
Please consider giving to the Litchfield Historical Society Annual Fund at any level.
Thank you for your support.
Catherine Fields
Executive Director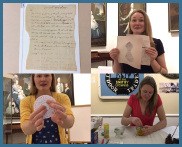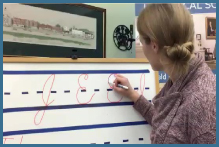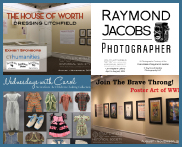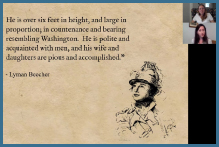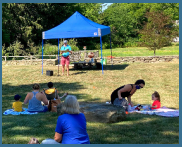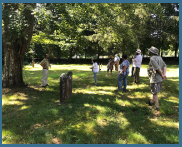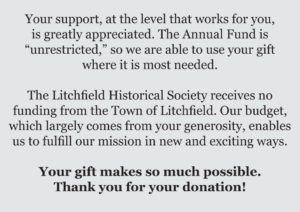 The Litchfield Historical Society, a 501(c)3 tax exempt organization.