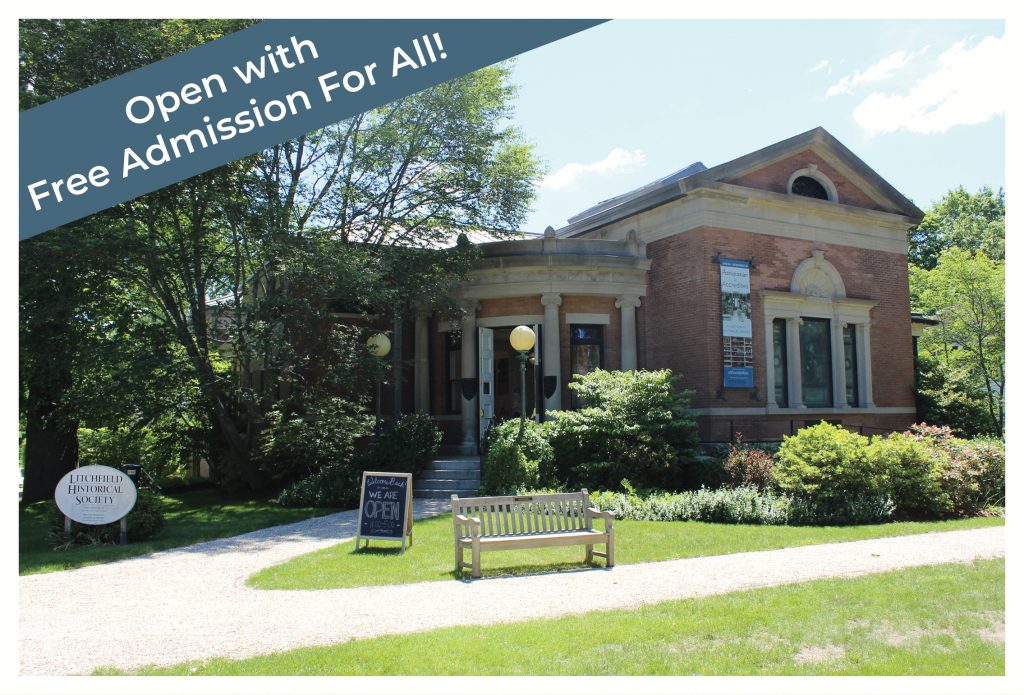 7 South Street, Litchfield, CT 06759
Safety Policies
In consideration of the changing circumstances surrounding the COVID-19 Pandemic and in an effort to keep our staff, volunteers and visitors as safe as possible, we ask all visitors to wear a mask while inside our buildings and to socially distance from other groups during their visit.
If there are questions about our policy or if your circumstances require special consideration, please contact us at (860) 567-4501. We will do everything we can to make your visit possible.
If you feel sick, have experienced a fever, have exhibited symptoms of COVID-19, or have been exposed to people who tested positive for COVID-19, please do not visit the Litchfield Historical Society at this time.
About the Museum
The Litchfield History Museum exhibits the evolution of the town of Litchfield, CT from its settlement in 1719 to today. Through changing exhibits, artifacts and archives, as well as hands-on areas, visitors can explore the diverse history of the town. Litchfield was a bustling commercial,political, and educational center and is a case study for the evolution of New England towns following the Revolutionary War. The town's history includes that of the center village, Bantam, East Litchfield, Milton, Northfield, and pre-1850s Morris. The Historical Society's artifacts and archives document all areas. The exhibits are on the first floor of the Noyes Memorial Building.
The lower level is home to the Helga J. Ingraham Memorial Library.
Hours
Thursday through Saturday – 11 a.m. to 5 p.m.
Sunday – 1 p.m. to 5 p.m.
Plan your visit today!
Exhibits Now Open

Antiquarian to Accredited: A Look Inside the Historical Society invites visitors to learn more about our institution while showcasing objects and stories from the point of view of our museum's stakeholders. This includes past and present staff, board members, volunteers, community members, and exhibit contributors. Antiquarian to Accredited gives an insider's perspective to how the Litchfield Historical Society collects, interprets, and shares community history.

Stitching Stories tells the story of quilt making in Litchfield from the nineteenth century to the present. Featuring five standout examples from the Society's collection and one piece on loan from a local quilter, the exhibit examines the various stories told with needle and thread: stories of quilt makers and recipients, of patterns and materials, and of memories and identities.
New quilts on display now!
Walking Tour Map
We have a walking tour map available for $2 that provides a self-guided tour of the historic district's homes and businesses. Stop in and purchase one today! Or, download the free, digital version of the Walking Tour Brochure. (PDF, 3MB)
MUSEUMS FREE TO ALL!
In our continuing efforts to better serve the Litchfield community we are pleased to once again offer free admission, generously sponsored by Ericson Insurance Advisors.