Open now
Litchfield's local businesses play a vital role within the community. As commercial entities, they provide food, clothing, employment, and the other necessities of daily life. As places that bring people together, they also become focal points for memories and experiences. On a larger level, these businesses form an integral part of Litchfield's identity by fostering local pride, serving as markers of change, and documenting the passage of time. As part of the town's 300th Anniversary celebration, Sold, Made, & Grown in Litchfield examines some of the local businesses that helped shape Litchfield's history, the town's unique character, and the community's shared memories. The exhibit showcases only a fraction of the many stores, industries, and farms that are part of this story. Visitors are invited to share their memories and reflect on the role of local businesses in their community.
sold
The continued presence of small and locally owned stores in Litchfield helped define the town's unique character. Long-standing businesses like Crutch & MacDonald and favorite shops like Tip Top became fixtures in the town's daily life and served generations of customers. As places where residents create shared experiences, these stores play an essential role in how people communicate both the town's history and their own memories.​
MAde
As Litchfield's small workshops transitioned to larger manufacturers, companies like the Warren McArthur Corporation created jobs for town residents and attracted new workers and families to Litchfield. The factory buildings and workers' homes constructed by past businesses remain as a visible record of their impact on the community and the town's landscape. Today, the renewed use of these spaces as workshops and art studios points to Litchfield's enduring creative spirit.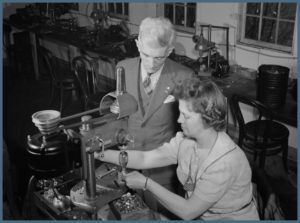 GROWN
Whether large or small, Litchfield's farms have generated jobs, provided food for local residents, and served as sources of community pride. In the 1870s, for example, Echo Farm became the first dairy operation in the country to commercially bottle and distribute milk. The award-winning Arethusa Farm continues this successful dairying tradition today, taking its name from the original dairy farm that operated on the same site for over a century.
Sold, Made, & Grown is also an online exhibit where you can share your photos and memories of Litchfield's local businesses.
View the website here: https://www.soldmadegrown.org/
E X H I B I T S P O N S O R
This exhibit is made possible by CT Humanities.