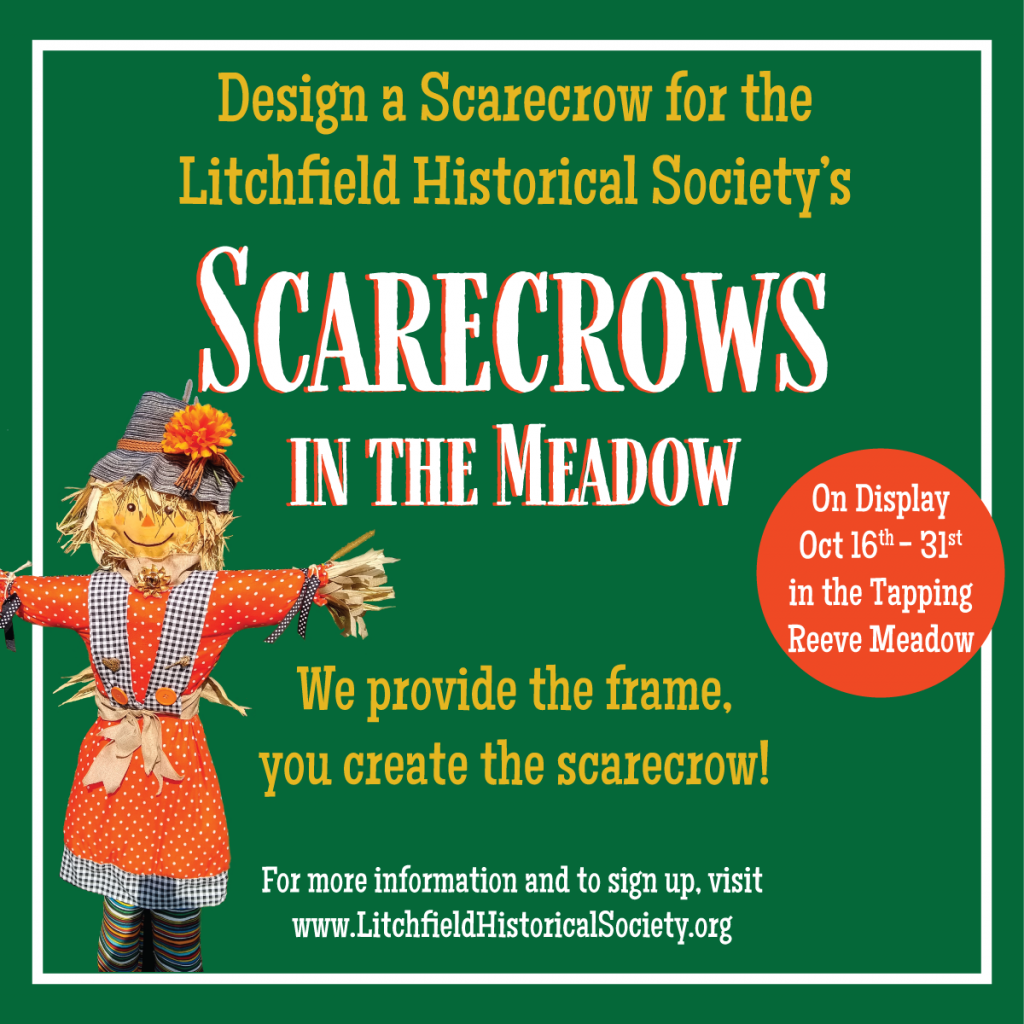 All frames for Scarecrows in the Meadow 2021 have been reserved!
If you would like to be put on a waiting list in case of additional frames, please call 860 567 4501
The Litchfield Historical Society is excited to announce the return of Scarecrows in the Meadows, a community event celebrating the end of the harvest season. The scarecrows will be on display from October 16th – October 31st in the Tapping Reeve Meadow, located behind the Tapping Reeve House and Litchfield Law School.
Want to help make the event happen? Families, business, and organizations are invited to participate and show their community spirit by decorating a scarecrow. Participants are encouraged to let their creativity shine and visitors will vote on their favorite scarecrow! Participating is FREE and framing materials will be provided.
Space is limited to first 50 participants. Early registration is recommended
---
Important Information
REGISTERING: Register to decorate a scarecrow by Monday, September 27th
PICK UP: Framing materials will be available for pick up starting October 4th between 9:00-5:00 at the Litchfield History Museum (7 South St.)
DROP-OFF: Completed scarecrows can be dropped off at the Tapping Reeve House and Law School (82 South Street) on Thursdays- Sundays, or at the Litchfield History Museum on Mondays-Wednesdays. Drop-off time is between 9:00-5:00. All scarecrows must be delivered to by 9:00 am on Saturday, October 16th at the latest.
SCARECROW GUIDELINES

The Historical Society will provide the frame and contributors will provide the decorations and stuffing. Frames can be used as is, altered, or not used at all.

Businesses and organizations are welcome to represent themselves. We encourage participants to be creative!

Scarecrows can be made of any materials you choose but must be constructed to withstand the weather.

Scarecrows must be in good taste. No entry will be accepted that is offensive or upsetting. No political statements. We reserve the right to remove any entry that does not meet these standards.

Please be advised that no security will be available, and the Litchfield Historical Society is not responsible for loss or damage to any entries.

A Scarecrow Bio and Participants name will be displayed with every entry.
TAKE DOWN: Scarecrows will be taken down by the Litchfield Historical Society on Monday, November 1st. Participants who would like their materials back can arrange from them to be picked up. Unclaimed scarecrows will be taken apart, recycled, or disposed of.
QUESTIONS: For questions, contact 860-567-4501 or email education@litchfieldhistoricalsociety.org